Women's T-Shirt - Long Sleeves (Custom T-Shirt (Women) )
Shop for Long-Lasting and Unique 100% Combed Long Sleeve Cotton T-shirts
CircleOne offers you the best-in-class women's long sleeves t-shirt that will last you through the seasons. Be it for a casual jog on a chilly day or doing yoga or getting ready for your morning fitness classes, our women's t-shirt can help you feel relaxed and warm.
For all-day comfort, the women's t-shirt is composed of 180 GSM superior bio-washed combed cotton fabric. Combed cotton, a very soft kind of cotton, is created by treating cotton fibres before spinning them into yarn.
When the t-shirt is bio-washed, it removes protruding threads and slobs, reduces pilling, softens the textile side, and gives the garment a smooth appearance. Also, it removes all lint, making it ideal for people with sensitive skin.
We have designed our custom t-shirts with thoughtful features for your style and comfort. They come in five eye-catching colours: black, white, red, navy blue, and melange grey and are offered in 7 different sizes, ranging from XS to 3XL.
Layer up your look with Women's Long-Sleeved Printed t-shirts
With personalised t-shirts for women, you can create a simple everyday appearance while yet making a statement. We employ innovative digital printing techniques to print high-quality images on t-shirts. For front, rear, or both sides, the printing space measures 8.27 x 11.69 inches (W X H). If you choose left chest, then the printing area is 4 x 4 inches (W X H).
Customers can personalise their artwork by uploading it with their preferred logo, text, or any other graphics of their choice. Women's custom t-shirts enable you to showcase your business easily while being comfortable and fashionable. We have a sizable assortment of them here at CircleOne! Each product comes with a fabric warranty of up to 25 washes.
Easy to Care Women's Custom T-shirts Come with Bulk Discounts
We offer bulk order discounts to our customers. The larger the order, the greater the discount. Our women's t-shirt - long sleeves are simple to care for and keep clean. Wash them in a washing machine with cold water and no detergent to maintain them in excellent condition. To avoid discoloration, be sure not to bleach, tumble dry, or expose your clothing to direct sunlight.
Material: 100% Bio-wash Superior Combed Cotton, 180 GSM
Gender: FeMale
Fabric Warranty: Up to 25 wash
Tolerance +/-1.5" all around measurement
Actual colors may slightly vary from what appears on the screen
Washing Instructions
Machine wash in cold water
Do not bleach and use only very mild detergent
Wash, Dry and Iron Inside out
Do not tumble dry
Do not dry garments in direct sunlight
Do not scrub or iron on print
T-shirts should be washed inside out. It is advised to go for cold water temperature and gentle cycle. Use mild laundry detergent and never use bleach. Separate whites and coloured shirts as well. Avoiding the use of a tumble dryer and highly recommended Printed shirts should be hung in a shady area and left to dry, avoiding unnecessary sun damage.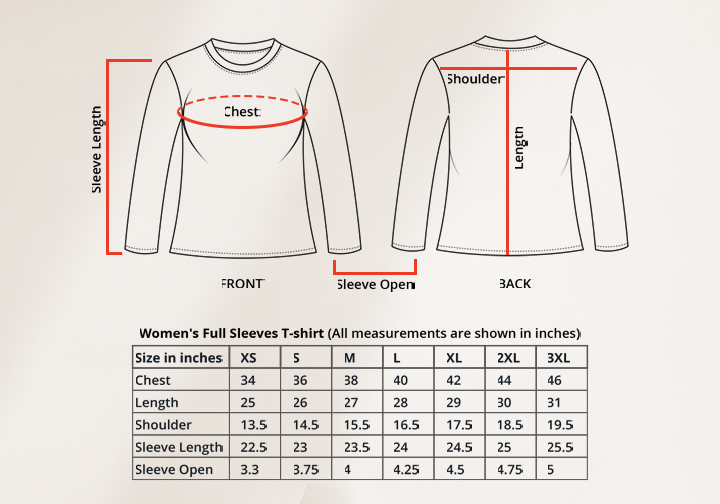 Bulk Quantity Discount
| Quantity | Discount Percentage(%) |
| --- | --- |
| Qty 2-20 | 3% |
| Qty 21-50 | 5% |
| Qty 51-100 | 9% |
| Qty 100-500 | 12% |
| Above 500 | 18% |